Actually I got my hair done a week before the new semester started @@ but now only I'm blogging about it! Haha
I had my hair done at A-Saloon, Sunway Pyramid.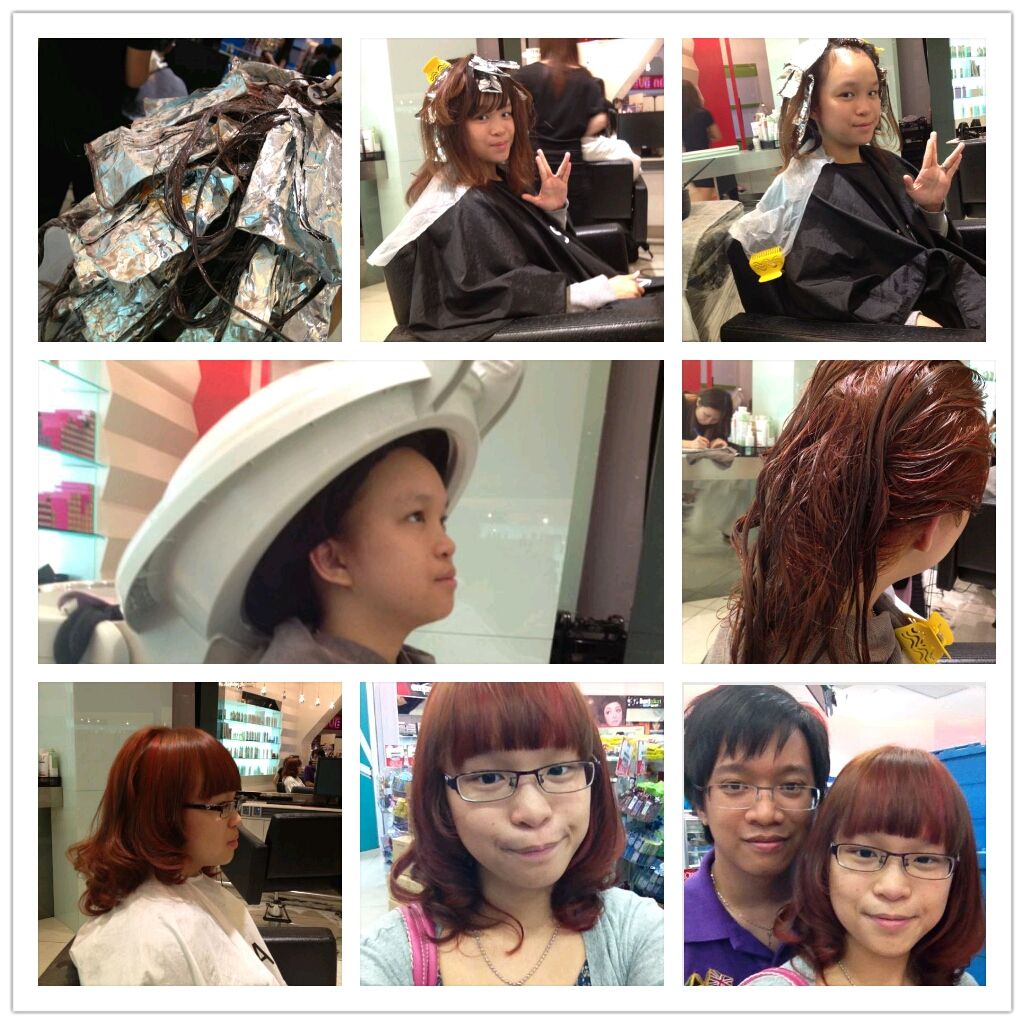 Compilation of new hairdo related pictures
First picture from left: Highlights being done
Third picture: Dying the base colour
Fifth picture: Getting treatment done (Hair + Scalp treatment separately)
Last row: Hair is done!
Total amount me and hubby paid was about RM460-RM470. I can't remember the exact amount.
What I did to my hair
I had my hair dyed and highlighted. Base colour was Copper Brown and highlight was orange (can' remember what shade). I also got scalp and hair treatment done.
Services
The stylist was a bit irritated because we were kind of indecisive of what to do with my hair. After dying my hair, I had to wash it off kan? The shampoo guy like KILLING ME. wtf. He took off the aluminium strips so rough!!! He was literally pulling off my hair!!! Then whenever he had to wash my hair (eg, after doing each type of treatments) he really rub my scrubbed my scalp really hard!!! After that, when it was time to style my hair, different people styled my hair instead of just one! Shouldn't just one person be styling my hair?!
Overall
After a few weeks, my highlights have faded away =(
In terms of consultation, my hair stylist was experienced enough to tell what suit or didn't suit me. However, in terms of being comfortable, they can improve.
Oh, please also note that, the hair dyes are fucking painful =( They sting REALLY BAD!!!
A-Saloon
Lot F1.77, 1st Floor
Blue Atrium, Sunway Pyramid
No. 3, Jalan PJS 11/15
Bandar Sunway
46150, Petaling Jaya
Selangor
Tel : +603-5638 0388